Why use solid tires on heavy equipments?
Industrial solid tires can be applied to many harsh working conditions such as low speed and high load. Their safety, economy and durability are obvious, and they have room for use in many fields.

1. Excellent safety performance, helping improve the work efficiency.
Unlike pneumatic tires, the solid tire is manufactured of solid rubber, you don't have to worry about air leaking out of the tires. They can even perform when punctured or cut due to their layers of durable, tough rubbe. Which guarantees the vehicle control steadily maximally and fundamentally solve the hidden danger of puncture during industrial vehicle running in the harsh working environment. Solid tires have small load-deformation and good running stability, because of its puncture-resistance and tear-resistance, no need to inflate, avoiding the heavy work to repair and replace tires frequently. Solid flex tires can improve the work efficiency of your equipment, they can completely replace pneumatic tires on the low speed and high load industral vehicles.
2. Reasonable structural design to ensure a better performance.
The industrial solid tire is designed based on advanced three-layers structure, three rubber compounds ensure the overall performance of the tire.
● Base layer: Hard base compound & Steel bead ring
Specific base compound that strengthens the tire base foundation and ensures a prefect rim fitting. Solid wire bead ring that reinforces structure sturdiness and tight rim fit. Base compound with steel bead ring help prevent slippage with rims.
● Center layer: Cushion compound
Composed of a pure natural rubber compound to help dissipate heat and offers optimum resilience for a more comfortable ride.
● Tread layer: Wear-resisting compound
Wear and tear resistant compound that provides low rolling resistance, help prevent chunking and chipping, long life and high durability.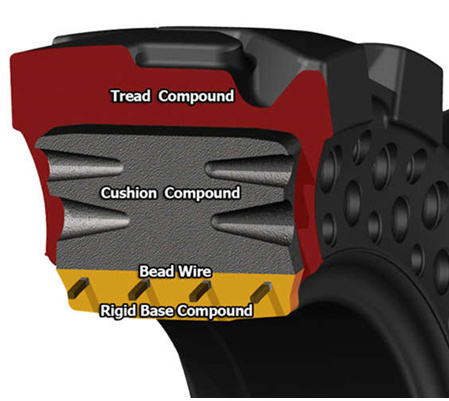 3.Advanced technology and formula design

have more than half a century of production history and experience, with advanced technology. The mature rubber formula design maximizes the working performance of the tire, especially the hard base uses high rigidity and low heat generation rubber compound. It can minimize the heat and temperature, while also improve the heat resistance of the solid tire during running, which solves the serious problems such as swelling, slippage and burst that caused by the rising temperature of solid tire. The advanced formula design reduces the rolling resistance of the solid tire, after detecting that the rolling resistance coefficient of solid tires is equivalent to that of pneumatic tires. This solves the problem of increased fuel consumption which caused by switching to solid tires.
4.Prevent flat tires, Lower Operational Costs.
How many flat tires have you had to replace this year? How much time was spent changing tires, and how much money was spent replacing tires that went flat? Heavy equipment solid tires never go flat because there is no air inside of them, they're solid rubber. Industrial solid tires are designed to handle the harshest conditions and job sites. They won't pop and they will never leak. The amount of force required to tear a solid flex tires is more than double the force it takes to tear a pneumatic tire.Industrial solid tiresstay intact when traversing rough terrain and their life-expectancy is three times longer a standard pneumatic tire too. You won't be replacing flat tires with new tires which cost you money, and you won't be spending more man hours and money for labor to replace flat tires either. Industrial solid tires save money and time and make your jobs far more efficient than the alternatives.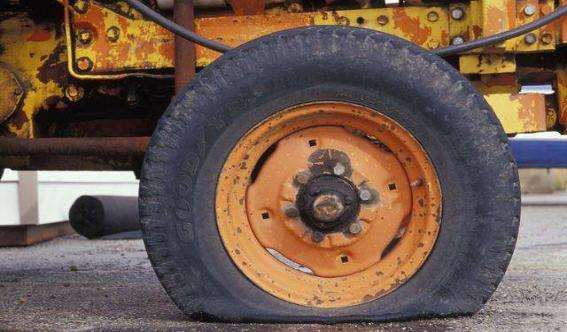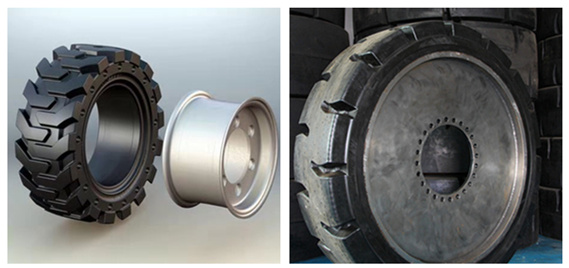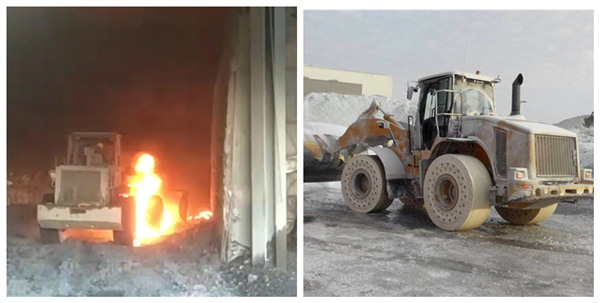 Our solid tired brand"Geelanter"is a genuine premium tire that has been tested under various types of working conditions to ensure a reliable, safe and high quality product. Geelanter is a excellent solid tire with 3 layers structure construction manufactured with natural rubber and a specially mixed compound that offers high quality with cost-efficiency, long durability under heavy load conditions, and low rolling resistance. If you want to learn more information, please contact with us.