Structural design of Bobcat solid skid steer tire
Skid steer loaders are one of the most popular heavy equipment machines on the market today. These compact machines turn by'skidding', an action that puts a lot of stress on their tires, so solid tires are a perfect choice. Geelanter solid tire can be applied to Bobcat skids steer, what is the structure design of it? In order to let everyone know more about bobcat solid skid steer tire, let's take a closer look at the structure design of it.
Geelanter Bobcat solid tire is designed based on advanced three-layers structure, three rubber compounds ensure the overall performance of the tire. Such structures can provide you excellent wea-resistance and cushioning, long durability and high load capacity. Reasonable structural design that can ensure a better performance.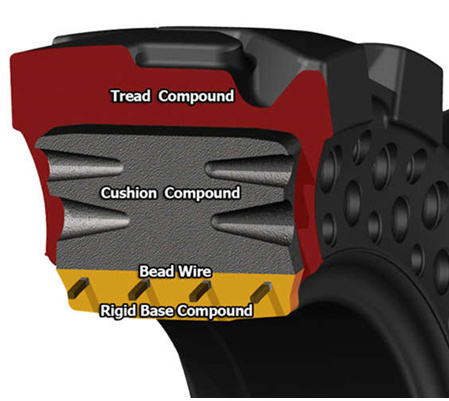 ● The 1st layer: Hard base compound with steel bead ring
Specific base compound that strengthens the tire base foundation and ensures a prefect rim fitting. Solid wire bead ring that reinforces structure sturdiness and tight rim fit. Base compound with steel bead ring help prevent slippage with rims.
● The 2nd layer: Cushion compound
By using high elasticity rubber in the center, which can improve the solid tire's deformability and elasticity, 90% reach the effect of pneumatic tires. Composed of a pure natural rubber compound to help dissipate heat and offers optimum resilience and shock absorption for a more comfortable ride.
● The 3rd layer: Wear-resisting tread compound
Wear and tear resistant compound that provides low rolling resistance, help prevent chunking and chipping, long life and high durability.
In addition, the cushioning performance of solid tire is also crucial, often serving as the only suspension on many types of heavy equipment. Different from foam-filled tires or solid tires with a single row of sidewall holes, Geelanter Bobcat solid skid steer tire has special sidewall aperture structure which incorporates a double line of extra deep cushioning holes in the sidewall to optimize flexibility and shock absorption. Unparalleled tire performance on any terrain; reduced machine bouncing; nd most importantly, improved operator safety.
Traction is a key factor to consider when operating your skid steer on off-road applications. Geelanter solid skid steer tires feature directional, deep tread lugs for exceptional traction on soft ground conditions including mud, sand, dirt, and gravel. They also have a 180% deeper tread than the standard pneumatic tire and a directional lug pattern for improved traction, stability, and longevity. Because of their deep-lug pattern structure, are self-cleaning, protecting the tire from damage on debris-filled work sites.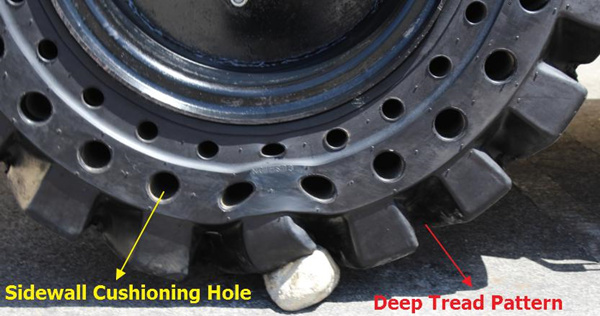 Geelanter solid skid steer tire's advanced structure, superior rubber compounds, and uniquely engineered sidewalls prevent downtime from cuts and snags even in the most severe cutting conditions.