Solid Tire For Underground Mining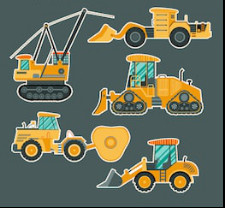 For nearly a decade, the world's demand for mineral resources continues to grow which has increased the demands on mining equipment. While the operating conditions of mines have largely remained the same, the mining equipment being used is bigger, more efficient & capital intensive. The frequent tire-related downtime will reduce operational efficiency, higher costs & revenue loss, this leads to an even greater need for stability from tires.
Under normal working conditions, heavy equipment is usually fitted with pneumatic tires that are prone to punctures & damage. But in some special engineering applications especially underground mining, solid mining tires have been gaining acceptance as the benefits become more apparent. Solid tires are puncture-proof and are made from highly wear-resistant rubber compounds. This gives them a lifespan 3 to 5 times that of traditional pneumatic tires thus reducing cost. Solid tires significantly improve occupational safety as there is no possibility of tire blowout related accidents.
The large-scale exploitation of mineral resources in a mine creates chaotic dirt and tumbling rock. Even with a hard surface underground mining tire, the continual wear and tear from driving over rough rocky surfaces can cause chunking of the tire tread - this is the process by which rough ground and jagged rocks cause cracking, cutting, tearing, and breaking away of parts of the tread. Solid mining tires made from superior compounds such as high-quality natural rubber/carbon black blends are resistant to cuts and chunking from rock damage and rough use, assuring a significant increase in tire longevity, cost-effectiveness, and operator safety.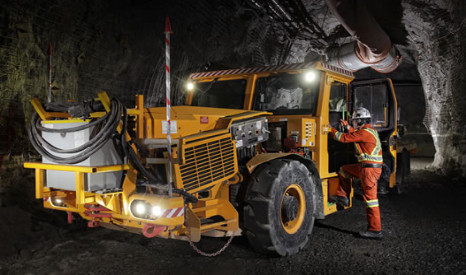 Geelanter solid mining tires are designed based on advanced 3-layers structure, by using elasticity rubber compound in the middle layer, which can improve the tire's elasticity and offer optimum resilience and shock absorption for a more comfortable ride. Besides, solid mining tires have significantly deeper tread patterns compared to pneumatic tires, e.g. the 17.5-25 super solid mining tire has a tread depth of 150 mm (6 inches) increasing wear volume, and thus the lifespan is prolonged.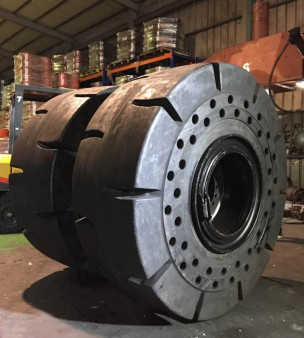 There's no doubt that the harsh underground mining conditions bring a multitude of challenges for solid tires, of course challenges also mean new opportunities at the same time. We continuously try to serve our clients' business needs better through regular client listening. Geelanter has always been committed to working together with customers to ensure a positive outcome. We're not willing to compromise on quality and taking the customer as the center in the service. We also have other series of heavy equipment solid tire, if you are interested in our products, please contact with us!