JLG helps build Beijing Daxing International Airport- Geelanter JLG lift tires
From 2014 to 2019, the entire Beijing Daxing International Airport was designed and built for 5 years, with a total investment of nearly 80 billion yuan.
During the construction of the airport, JLG had the honor to participate and witnessed the "takeoff" of this super aviation hub. Geelanter solid tire had honor to serve JLG lift equipment, supplied high quality JLG lift tires, help equipments keep perfect working condition.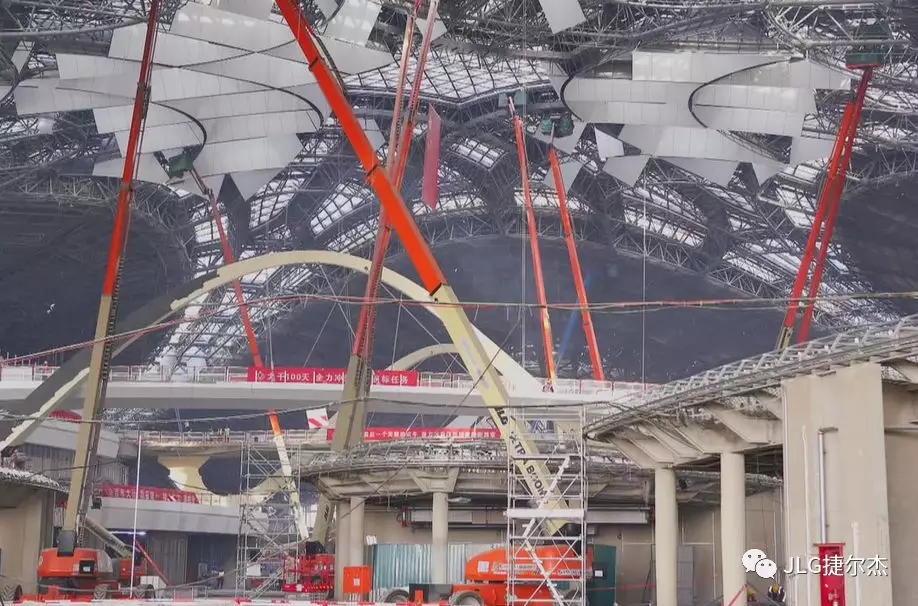 Known as one of the "Seven Wonders of the New World", Beijing Daxing Airport has a projected area of 180,000 square meters in the main building, which carries a passenger throughput of 100 million units, and is the world's largest comprehensive transportation hub.
The shape of the airport like "Phoenix Spreads its Wings" means auspiciousness, but its unique shape makes the construction challenges.
Particular, the airport's high-altitude construction operations face problems such as large spans, high heights, complex structures, and difficult positioning.
If only relying on traditional aerial work methods, not only construction efficiency is low, construction safety is also difficult to guarantee. In the face of challenges, JLG aerial work equipment with its superior performance, gave the best solution for the project. As professional scissor lift tires and aerial lift tires supplier, Geelanter JLG lift platform tires can help your equipments work safety in these complex working condition.
Since the beginning of 2016, JLG aerial lift equipment has been stationed in the construction site of Beijing Daxing International Airport one after another, and has undertaken a series of aerial work tasks. At most, more than 160 JLG aerial equipment were on-site construction.
In the hardcover construction project of the Beijing Daxing International Airport Terminal, the continuous irregular double-sided suspended ceiling has brought increased operational difficulty and cost.
To this end, the project team adopts an advanced construction operation system to achieve ceiling-free scaffolding construction. The safe and efficient JLG aerial lift equipment has become the first choice of the project team.
As we know, tires represent one of the biggest expenses in keeping a scissor lift , boom lift and telehandler. Geelanter high quality JLG lift tires offer steady and safety performance, and competitive price help users reduce the working cost.
In the future, we trust JLG will strive to provide better and more efficient equipment, provide various aerial work solutions for the construction needs of different airport construction and maintenance projects.When you owner JLG equipment, remember Geelanter solid tires and foam filled tires!