10-16.5 Solid Skid Steer Tires For Bobcat S450
Geelanter has been offering solid tires to Bobcat China as an spare parts supplier since 2107. A batch of solid steer skid tires will be delivered to Bobcat China facility today, the size is 10-16.5(30x10-16), which can be applied to Bobcat S450 skid-steer loader.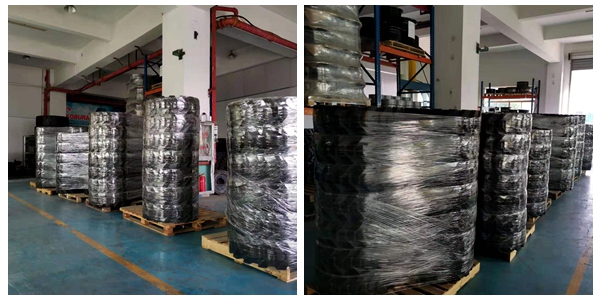 Since its first entrance to the Chinese market in 1997, Bobcat S450 is well received by users in love, one of the best-selling model. Bobcat China launched the new S450 Series Compact Loader to the local market in 2015 which replaces the legendary S130 K-Series.The Bobcat S450's width makes it a great performer for its size – and the tight turning radius lets you handle big jobs in small areas. The Kubota diesel power pack delivers 36.4kW, a stronger lift arm which allows for greater load handling of 608kg. A redesigned hydraulic and transmission systems boosts productivity while operating time is extended thanks to the enlarged fuel tank.

In general, pneumatic tires are mounted on skid steer loader, but under some special working conditions solid tires will be a necessity. Solid skid steer tire is ideal for heavy duty work in environments with high risk of punctures, damage and impact, such as scrap yards, quarry and construction site... Geelanter solid tire pattern is suitable for dirt, ground, sand, mud, snow or quarry and mining fields.
Geelanter 10-16.5(30x10-16) Solid Skid Steer Tire

This size of solid tire can not only be applied for Bobcat Skid Steer Loader S450, but can also be fit for other Bobcat Models: S510, S530, S550... Of course, if you have other brands of skid steer loaders which need to use solid tires, we can supply you customized rim according to the corresponding mounting dimension. And we can also offer different coloured rims as you demand.
Notice:
The mounting Bolt pattern is 8 on 8 Inches(Bolt Circle Diameter), with 6 inch center pilot hole. Fits all 8 bolt excluding the Bobcat 700&800 series with 8 on 10.75 Inches or Backhoes with 8 on 10.83 Inches.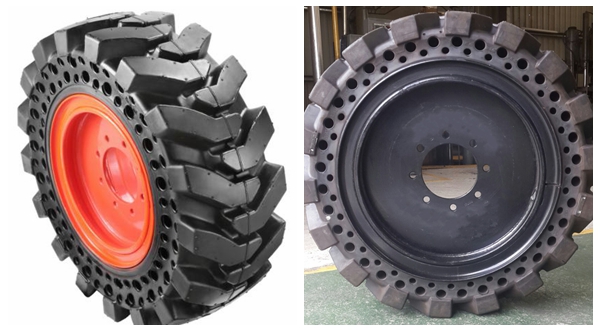 Geelanter has various sizes of solid skid steer tires for different brands and models. More information, please click solid Skid Steer tire
12-16.5(33x10-20) Solid Skid Steer Tires For S650