Customized fire-resistant solid tires have won unanimous applaud from customers.
On March 25, 2018, the customized fire-resistant solid tires special for Liugong by our company were officially delivered to customers. This batch of our solid tires was delivered to the end-user upon installation and debugging on Liugong CLG850H loader, and then been tested for 48 hours in a scrap refining center of an iron and steel plant, with the result that fully met the requirements of the customer.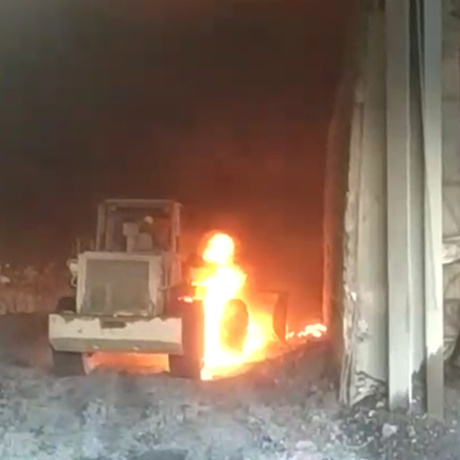 Liugong 855 loader works under a rated load of 5000kg, rated power of 162 kW, and a standard bucket capacity of 2.7m³. Model CLG850H focuses on bulk cargo operations, which has become a new generation of bulk pioneer for its best balancing performance on operation capability, efficiency, flexibility, and economy achieved through design optimization. It is usually applied in yard, wharf and field operations. In this occasion of order, the crawler loaders were replaced by wheel loaders as it could not meet the requirements of high temperature, while the common pneumatic tires could not meet the harsh conditions of high-temperature operation. Therefore, we are specially required by the scrap steel refining center of the steel plant to customize high temperature resistant solid tires. Ordinary solid tire, under the condition of high temperature, will cause rubber secondary vulcanization, which results in a performance attenuation and a shortening of service life. The technical team of our company made this significant breakthrough and developed high temperature resistant raw materials, which can improve the service life of ordinary solid tires by 2-3 times, thus meeting the needs of customers.
https://youtu.be/_XKik0UFflY
The customized tires can be developed specially according to requirements in the premise of information such as specific working conditions, working hours, downtime, and load conditions are provided by customers. If you have similar special needs, please do not hesitate to contact us.