10-16.5 Solid Skid Steer Tires For Bobcat
Since the bobcats skid-steer loader to enter the Chinese market, because of its unique structural characteristics, was widely welcomed. We are also honored to be the supplier of solid tires for bobcat skid-steer loader.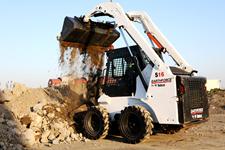 The skid-steer loader is a special wheeled chassis equipment which makes use of the difference in linear velocity of wheels on both sides to realize vehicle steering. The biggest characteristic of the skid-steer loader is that the overall size of the loader is small and the loader can be turned in situ. Can be in the field of random rapid replacement or hanging a variety of work devices, diverse operating environment. It is also because of the characteristics of the skid-steer loader, so the requirements of the skid-steer loader tire is very high, the general use of solid tires rather than inflatable tires.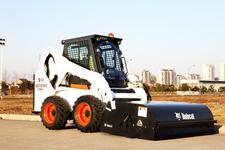 Why use solid tires when choosing skid-steer loader tire? Using a solid tire can help you reduce or avoid many negative effects, such as punctured tires, cuts, or punctured tires, resulting in repair or replacement costs and downtime.
The 10-16.5 solid tires produced by Jielanter are suitable for bobcat S16, S18, S40 and other models of sliding cars. The solid tires of this skid-steer loader are made of reinforced mineral rubber compound materials, with high tear strength, high cutting resistance and high hardness, which can effectively improve the stability of the vehicle during use and the comfort during driving. Tire with rim, easy to install and replace, is your first choice. If you are interested in our products, please do not hesitate to contact us.