Tread Pattern Types of Solid Cushion Tyres
Solid cushion tyres outperform pneumatic tyres when it comes to traction, durability, serviceability. They are wildly used in various types of industrial vehicles, for example when it comes to choosing the right type of tyres for your skid steer loader, solid cushion tyres are clearly the best option.
While selecting the right type of solid cushion tire is certainly important, but it is not enough, it is just as important to choose the right tread pattern for your equipment according to the worksite conditions. There are a lot of tread patterns to choose from, selecting the right tread pattern is key to ensuring maximum efficiency and performance of your solid tires.
The main function of the solid cushion tire tread pattern is to increase the friction between tyre tread and road surface to prevent the wheels from slipping. As the part of a tire that rolls in contact with the road, tread patterns incorporate a variety of features molded into their rubber compound that support the vehicle's load while resisting heat and wear, it can also improve the elasticity as the tire tread contact with the ground. There are 4 main types of solid cushion tire tread patterns, based on the type of terrain:
1. longitudinal pattern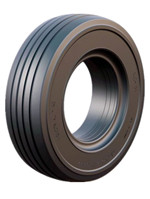 The longitudinal pattern is circumferential continuous and transversely disconnected, so the longitudinal stiffness of the tread is large, but the transverse stiffness is small. The advantage of longitudinal pattern tire shows that the veichle can get strong grip when passing through the bend, and it is less prone to side slip in emergency.
longitudinal pattern tire itself has strong drainage, it is not easy to skid when driving on the road surface with stagnant water.
The longitudinal pattern tire also has the advantages of low rolling resistance and good heat dissipation performance, but the adaptability to road conditions is poor, and its pattern grooves are also easy to be embedded in small particles such as stone.
2. Transverse Pattern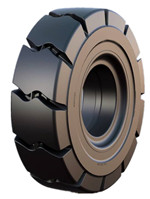 The transverse pattern and the longitudinal pattern are basically vertical arrangement, the transverse stiffness of tread is large, and the longitudinal stiffness is small. The normal driving power is strong, but it is difficult to cope with high-speed turns, by contrast, it is easier to slide sideways. The rolling resistance of transverse pattern tire is large, although it can ensure the grip when driving in a straight line, but at the same time, the pattern is also easy to wear and tear, and brings greater fuel consumption. The application range of transverse pattern tire is not as wide as that of longitudinal pattern tire, but in the face of bad road section, transverse pattern tire has higher passing property.
3.Smooth Pattern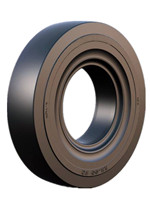 The smooth pattern tyre, designed for tyre rollers, has no grooves. It is used for compacting and levelling. A smooth pattern tyre can also be used on loaders in underground mines because of its high wear and cut resistance. The smooth pattern for loaders, however, has two narrow grooves that are used to measure tread wear.
4. Mud & Snow pattern: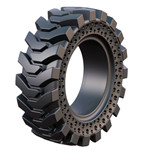 A solid cushion tyre for mud or winter, it has a deeper tread depth and a unique tread pattern which helps to reduce snow or mud build-up and provide better traction on the road. It has deep, aggressive lugs that give high traction which is needed to handle tough muddy applications.
If you want to learn more information, please contact with us